Distribution
About distribution
For non-Japanese speakers, we can distribute original hardwares with following prices which is excluded shipping fee. If you have a question, please contact.

How to order
Send me order mail filled your name and address or use hardware order form, ordering hardwares, also how to ship.
You can select how to ship. EMS and e-packet shipping service is available.

Contact mail address:


International shipping is available. E-packet and EMS are available. Please select how to ship as the followings.
- International e-packet, Estimated delivery time is about 2 weeks. : 1000JPY
- EMS with tracable, Estimated delivery time is about a week. : 2500JPY
How to pay:
Paypal is available. We will send you the invoice after prepared the parcel.
Attention for French users:
French Chrono post company specified to express mail service provides wrong service for EMS shipping. We have many troubles in this company. Consequently we will send to french user by SAL shipping. SAL shipping is provided by La post instead of chrono post.
Distributed hardwares
DCC/MM2 Shield kit 28EUR
Including PCB and AVR MCU written with firmware, electric parts. This kit is not soldered. You need to solder.
3.3V type for mbed is now for sale. Please contact.
DCC/MM2 Shield (Soldered) 38EUR
This product is soldered. If you can't solder, this product is recomended.
3.3V type for mbed is now for sale. Please contact.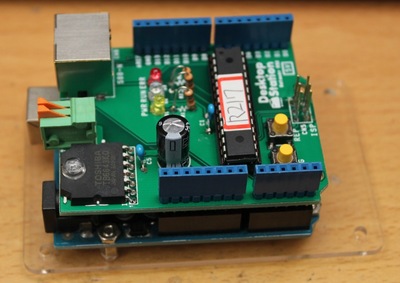 DSmain R5.1 (Soldered) 210EUR (Not Soldered) 170EUR Detail information
DSmain is all-in-one hardware including Arduino nano compatible board, S88 I/F. If you have USb cable, DC power supply, feeder wire, PC, you can play immediately. We can provide you soldered version and not soldered version.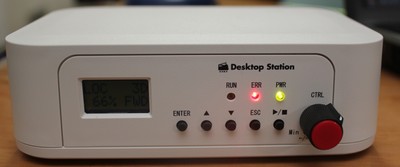 DSmain R5
Mint tin DCC controller kit 30EUR detail page
This boards fits ALTOIDS mint tin. This device can control DCC locomotives easily. This kit is not including mint tin.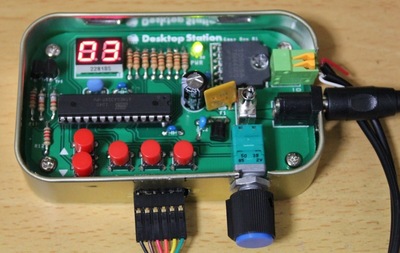 Mint tin DCC controller kit
Nagoden MP3 DCC Sound Decoder V4 (soldered) with Cube Speaker 35EUR Detail Page
Desktop Station is certified distributor from Nagoden! MP3 Sound Decoder is the cheapest sound decoder in the world. You need microSD card(2-32GB) and wiring rail and speaker, keep alive capacitor.