Introduction
Introduction
The marklin train system or the compatible one are very nice. The beginners firstly buy a reasonable starter kit which contains marklin Mobile Station 2(MS2, Art No.60653) and rails, also locomotives. When the beginner becomes a core user, they have to upgrade one of their collection, that is command station. MS2 is very reasonable but not enough to expand their collection.
Marklin Central Station 2 (CS2) is one of the popular upgrade option for marklin users. CS2 has many useful functions, for example shuttle train using S88 decoder and graphical interface and so on. However existing command stations are not expanding their functions.
I aim to create an alternative option which is useful command station for DCC and marklin users. Then I have released the Desktop Station.
The Desktop Station is an altenative and reasonable option instead of MS2 and CS2, also ECoS2. See cost chapter.
Arduino and model railway
Do you know Arduino? Arduino is an open hardware. You can use Arduino hardware and software freely. Desktop Station hardware is based on Arduino hardware. The reason is that Arduino is open. This means you can customize and add new feature freely.
You need to get some hardware for model railway control. If you have marklin 60113 and MS2, you can use Railuino. Id you don't have 60113 and MS2, you can use DSmain and DCC/MM2 shield.
Railuino is the software library based on arduino. And also Railuino is able to control AC model rail system as command station which is similar to marklin controllers. Railuino works with Arduino hardware and its CAN-BUS Shield. Railuino requires marklin 60113 digital connection box like marklin MS2. Marklin 60113 hardware converts CAN signal and 18VDC power to marklin C Track signal. Railuino outputs CAN signal to it using Arduino and CAN-BUS Shield.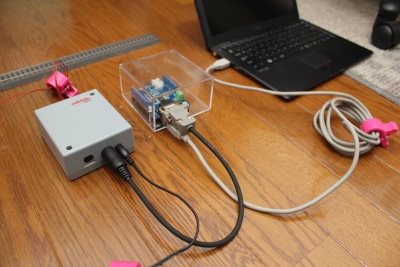 Arduino with Railuino system.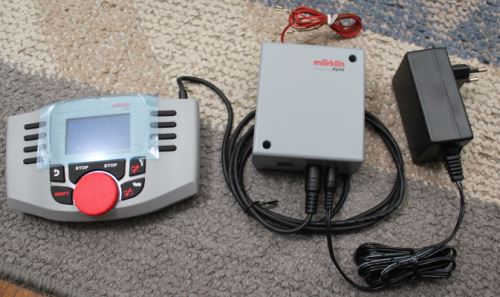 Marklin Mobile Station2 system.
DCC/MM2 Shield
Railuino need marklin system. Then I develop new solution which is DCC/MM2 shield. This shield provides you to control DCC and MM2 locomotives and accessories same as 60113. This shield includes the booster and trackbox features. You don't need the other devices which are track box and booster, and so on.

DCC/MM2 shield requires Arduino board such as Arduino UNO R3, AC/DC power supply (12V for N, 16V for DCC/H0, 18V for Marklin/HO) which has center plus, wiring to your rail, DCC/MM2 shield, USB cable and PC.
If you are not marklin users, this solution is reasonable for you. This shiled is priced at 4000JPY (nearly 40USD).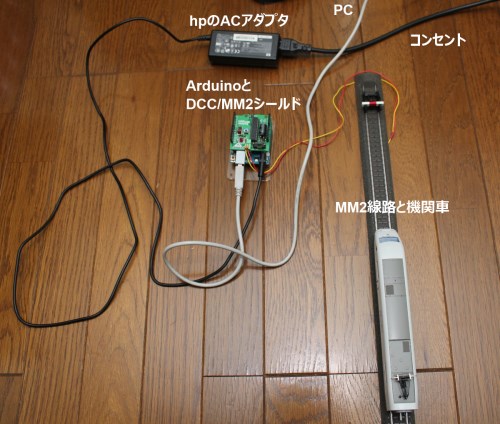 DCC/MM2 shield controls marklin locomotive.
Desktop Station(DS)
Desktop Station(DS) is front-end software made by Yaasan and uses Arduino hardware as gateway. Desktop Station requires Railuino, of course Arduino hardware and CAN-BUS Shield. Desktop Station has many features as user interface of command station which is equivalent of Mobile Station2(MS2) or Central Station2(CS2). Desktop Station works on Windows OS. You can use and take Desktop Station for free. You can enjoy Desktop Station instead of MS2 or CS2. Desktop Station provides you to control your marklin's or third parties AC model railway.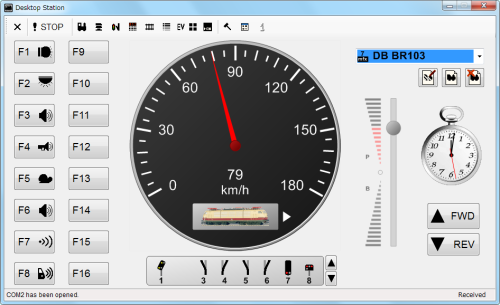 Screen shot of Desktop Station.
Features
100% free software.

Desktop Station is 100% free software. Source code is also provided for free.

Based on an open hardware and software.

Desktop Station is based on Arduino hardware and Railuino software. You can enjoy with very low cost. We distribute DSmain and DCC/MM2 shield. These hadrware is reasonbale price!

Control DCC and marklin AC locomotives and accessories

Desktop Station provides you many functions to control DCC and marklin locomotives, also AC compatible ones.
No limit to register locomotives and turnouts. See compatible decoder list from Desktop Station hardware users in worldwide.

Support S88 feedback module

Desktop Station supports S88 decoder which is 60880 or 6088 or Viessmann, LDT's or the other manufacture's compatible one. You can edit S88 event triggered by a S88 sensor. Event editor supports locomotives and accessories operation. Also jump and flag function is available.
S88 function of Desktop Station requires a S88 interface function which connects between S88 cable and Arduino. See below photos. the latest DSmain and DCC/MM2 shield includes S88 interface. DCC/MM2 Shield and Marklin MS2 and 60113 connection kit.

Event script

You can easily register event script. The script can control locomotives and accessories, also external applications which are sound player etc.. How to use is very easy. Capturing a script which you played is available to use learning function.
The event triggers are interval time and specified clock, also S88 sensors.
Event script function will extend strongly your layout.

For example, you can add station anounce event. The station anounce can play every 5 minutes in the event script.

Sound player with free sound package

Desktop Station can play sound linking with locomotive functions and event script. Also sound package files are available to use for free of charge. You can download the sound package files in this site.


You can assign the MP3 sound file to a locomotive function.

6021 like keyboard

You can run easily to type locomotive address in this function.

Support BVE5 key mapping

You can play using train joysticks supported BVE5. For example, Rail Driver's Desktop Train Cab Controller.

Link with Mobile Station 2(marklin 60653)

This feature can only use if you use Railuino.
Desktop Station can synchornize controling information with Mobile Station 2 via 60113. 2 persons can control seperately and simultaneously. Of course, Desktop Station can control independently locomotives and accessories instead of Mobile Station 2.

Extention of Arduino's Gateway sketch

Desktop Station is extendable to add new hardware using Arduino gateway sketch. New gateway for analog DC locomotives is now available. If you have analog DC locomotives, you can control them easily by Desktop Station. Details describe in Preparation for Analog DC.
Analog DC gateway requires a Motor Shield and a 12VDC AC/DC adapter for Arduino, also Arduino board.




Support many functions for playing

Support track diagram. You can draw a track diagram to operate solenoids and signals also check S88 sensors.
Support double heading control. You can control two locomotives simultaneously.
Automatic control (Shuttle like control) supported.If you could teach operation, you can run automatically taught moving. This feature is like shuttle control. Import and export as CSV file available.

Automatic control using web cam

You can use web cam instead of your S88 decoder! CameraS88 is a free software and detects locomotives using web cam. CameraS88 links with Desktop Station automatically.
The instruction describes in this page.
System structure of Desktop Station
Desktop Station is based on Railuino system. Railuino hardware system requires marklin digital connection box 60113 and Arduino with CAN-BUS shield. Each CAN-BUS Shileds have D-Sub or RJ45 connector for connecting to 60113. These D-Sub or RJ45 connector typically are used as RS-232c or Ethernet. However, in this case, CAN-BUS shield with Arduino uses as marklin CAN bus for Railuino. Please note not to misunderstand specified use in this case and typical use.


Hardware wire diagram example of Desktop Station.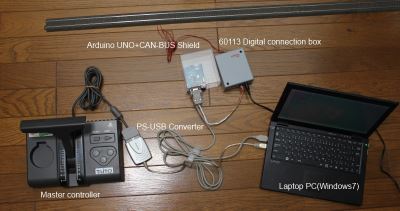 Desktop Station system example.
Cost
Desktop Station requires below hardwares excpet for your windows PC. You have to pay some money to buy these hardwares. If you have MS2 and relatives, total hardware cost may be about 40 € in my calculation. The software cost is for free.
However, You have to DIY if you want to play with Railuino. This website provides you how to assemble a hardware and a CAN cable for Railuino. Please see the preparation page.
Table: a table of Railuino hardware cost.

Table: a table of comparing total cost of some major command station.

Station name
Main module
Accesories
Total cost
mobile station 2
(Marklin 60653)
83 €
53 €(60113 connect box)
38 €(66361 AC adapter)
174 €
central station 2
(Marklin 60215)
599 €
83 €(60053 transformer)
682 €
ESU ECoS2 50200
499 €
-
499 €
Roco Z21
359 €
-
359 €
Railuino with
Desktop Station
40 €
(Arduino, etc)
53 €(60113 connect box)
38 €(66361 AC adapter)
131 €
DCC/MM2 Shield with
Desktop Station
(Desktop Station Platform)
20 €
(Arduino, etc)
30 €(DCC/MM2 Shield)
10 €(18V AC adapter)
60 €
<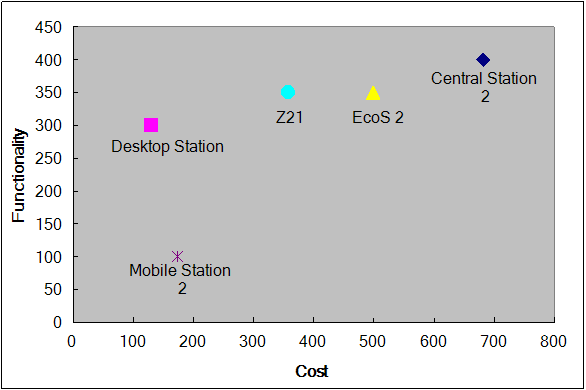 Compare of functionality and cost of command stations.
Get started
You need to select hardware platform.
| | | | |
| --- | --- | --- | --- |
| Selection type | Main targets | | |
| DSmain | beginners | | |
| DCC/MM2 Shield | DIY users | | |
| DSpi | DIY users | | |
| Railuino | Marklin users, already have MS2 and 60113 | | |